Installation
---
<< go back
Easy Installation   |   Applications   |   Balanced Flue   |   Installation Examples   |   Tank Installation Examples

Applications
Especially suitable to supplement or replace underfloor and night store electric heating systems, flued and unflued gas heaters, and ideal for Homes, Cribs, Holiday Homes, Churches, Halls, Retail, Medical, Meeting Rooms, Bars, Offices, Restaurants, Classrooms, Kindergartens, Glasshouses (see examples below). Models are also available for Boats and Recreational Vehicles.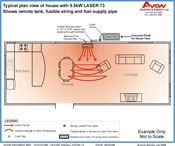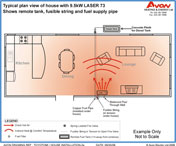 Primarily designed for location on an outside wall, LASERTM space heaters must only be installed with the TOYOTOMI Balanced Flue Assembly. The flue pipes between the heater and the balanced flue assembly, can be extended upwards or sideways (not downwards), a maximum of 3 metres with up to 3 x 90 degree bends (available as an optional flue extension kitset). The 3m flue limit needs careful consideration when planning the installation.
No hearth or flameproof material is required under or behind the heater (download the manual here and see "clearance diagram" on page 24 for the ideal location). If the LASERTM is to be installed in a fireplace, the flue should pass through a 75mm hole immediately at the back of the heater, (drilled by a concrete cutter through the back of the fireplace, using the cardboard wall drilling template supplied with each LASERTM Heater). The air intake for the room circulation fan (at the back of the LASERTM Heater) requires an air gap (approx 50mm around the top and both sides of the LASERTM), between the heater and a replace surround (see photo on right). Because no fireproof surround is required, around, or under, the LASERTM, if fireplace installation is overly difficult, consider locating the heater somewhere completely different. Removing the fireplace altogether is another option, which may provide space and modernization benefits to the home. Discuss any location / installation problems with your supplier or contact Avon Heating & Energy Ltd on 0800-379-247.
The LASERTM FF-95 is supplied with Automotive Diesel fuel from an (outdoor) remote fuel tank (see accessories page for more details on tanks).
NZ Regulations require both remote tank models, to be firmly secured with wall mounting brackets (for Seismic Restraint), and a fusible link string (supplied fitted to each LASERTM Heater) is applied in tension (by the installer) to maintain OPEN, the spring loaded lever of a fire shut off valve, which is installed in close proximity of the diesel tank. The completed installation must comply with National regulations and any local council regulations that apply to the installed site. Your installer or Avon can advise upon enquiry or at the time of installation (An installation certificate is provided when installation is complete).
The LASERTM Heaters require a 10 amp fused power supply to operate the automatic ignition and circulating fans (80 watts).
A battery back up via a 300 watt inverter, can be arranged. It will operate the FF-95 heater for 72 hours from a (good condition) car battery.