LASER
TM

FF-95 9.5kW Diesel Heater
---
<< go back
Laser FF-95   |  General Information | Dimensions  |    How LASERTM Heaters Work    |    Efficient, Economical & Safe  |   Warranty  
Efficient & Economical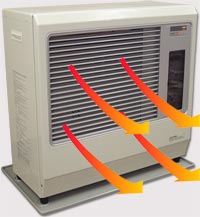 LASERTM heaters use less than a 100 watt light bulb to power the via a 3 pin wall plug. The room circulation fan is computer controlled, to operate at low speeds, so that in relation to its capacity, the fan is ultra quiet, even when delivering maximum air output. The warm air is considerably hotter than most heat pumps, avoiding cold drafts (but not too hot). Hot air is discharged into the room via the downward angled fixed louvers in the air outlet grille, which delivers warm air down to the floor level ensuring that your feet are always warm (see large photo on right - click photo to enlarge). The space heating effect, even on the coldest winter days, is simply outstanding.
The outer cabinet (other than the hot air outlet grille and the concealed exhaust pipe (located at the rear of the heater) is never hotter than "just warm" to touch, safe for the elderly or infirm and children
In normal operation, the LASERTM initially operates on High Fire to quickly warm the space. When the thermostat "set" temperature is reached, the LASERTM automatically switches down to Medium Fire, and to Low Fire. If the room temperate is heated to approx. 2°C above the thermostat "Set" temperature, the heater shuts down. Then when the room temperature reduces, the heater will (automatically), either restart, or increase heat output to maintain the thermostat "set" temperature, Just like a thermostat controlled electric heater. If you did not know LASERTM heaters were diesel fired you would think the LASERTM is a new kind of electric heater.

Safety

All LASERTM heaters are fitted with an automatic over temperature reset thermostat, a fuel sump reset button and an integral fusible link fire valve (as well as an external fire valve required by NZ regulations). A self diagnostic programme in the computer displays a range up to 5 fault conditions (see pages 14 - 15 in the instruction manual here). The manual is user friendly with advice to help interpret and rectify those faults - should they occur). Typical faults are, out of fuel, clogged fuel strainer, air in fuel line, restricted airflow etc.